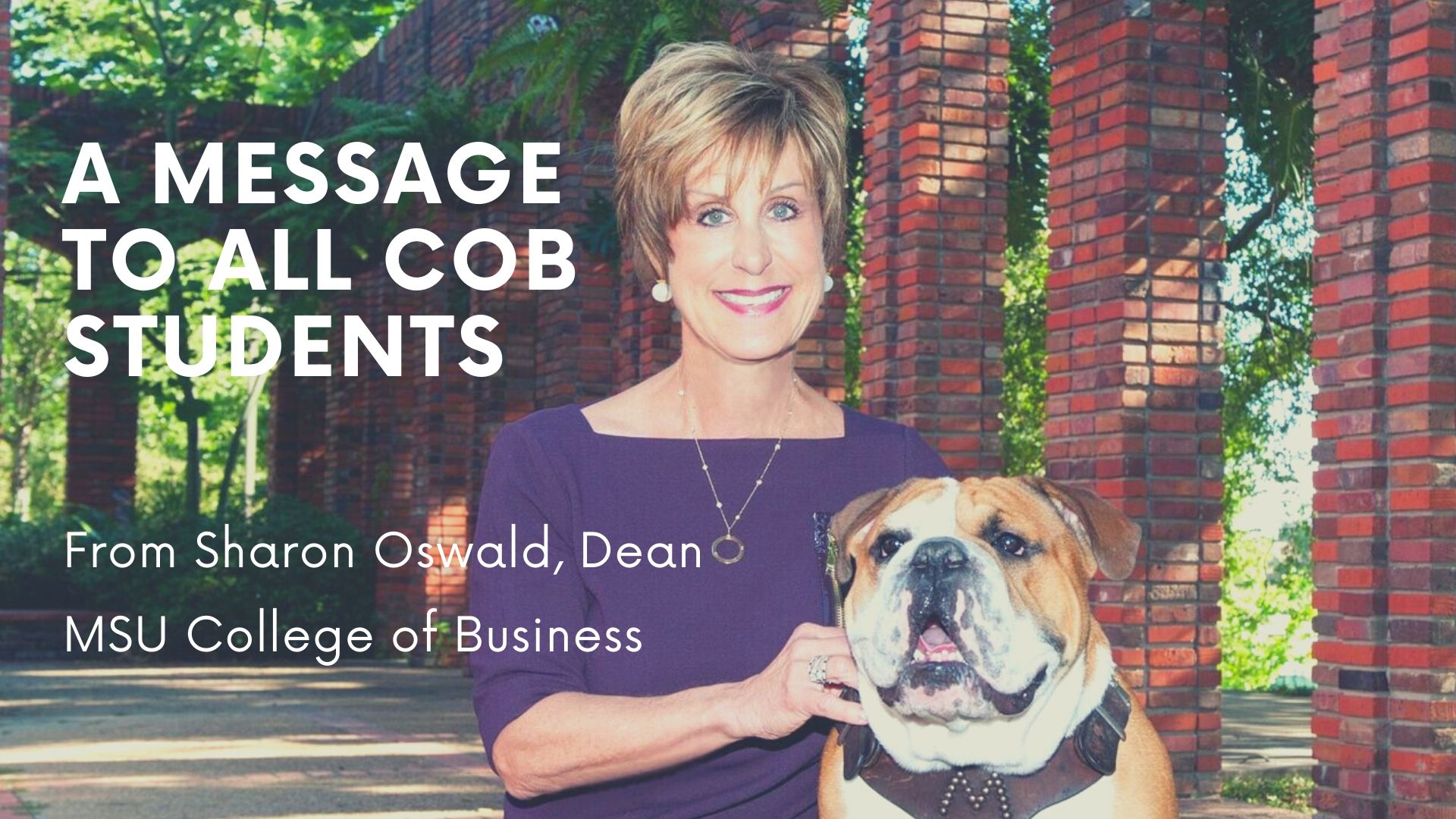 Dear College of Business Students,
We understand that many of you are anxious, stressed, and concerned about the remainder of the semester. Please know that we are all working to deliver quality courses to you for the remainder of the semester. The University has established a web page with resources for you that can be found at https://www.msstate.edu/acstudents.
As you all know by now, we will complete the rest of the semester on-line. Faculty have been working this week to make that happen. Please be patient and understanding.
It is very important that you continue to check your email regularly and encourage your friends and classmates to do the same. Email will be how most information is pushed out to you over the next few days and weeks.
Once faculty finalize their plans, they will be communicating with you. Please note that no classes will start prior to March 23. Also note that if you had an assignment due the week of March 16-20, the assignment will likely be due on the same corresponding day the week of March 23-27. No assignments are due the week of March 16-20.
Although campus is open, we are not permitting students to congregate in classrooms or other spaces. If you congregate, you will be asked to leave. This is for your safety as well as all of those remaining in the building. This will eliminate all in-person group work since you have been asked to stay or return home if possible. The Mitchell Memorial Library will be open; however, group work can be done on-line.
Be prepared for minor changes in your course syllabi. The COVID-19 pandemic necessitates that reasonable changes to syllabi be made given due to the loss of a week and the limitation of gatherings. These changes will be for your benefit, but will allow us to satisfy the learning objectives in the course. We have asked the faculty to give thoughtful consideration to changes made and to be lenient and compassionate where possible. If you have concerns over any changes, please communicate with your professor. Do not assume they will know.
For those of you needing internet access to complete your classes, the University has added a new web page listing several options: https://www.msstate.edu/newsroom/article/2020/03/students-limited-access-internet-services.
Exams will need to be completed on-line and as of right now will follow the regularly scheduled exam period. Remember that the Honor Code applies whether you are taking an exam at home or on campus. Those suspected of cheating will be reported to the Honor Council.
As you know, President Keenum announced that spring commencement has been postponed indefinitely to comply with the CDC recommendations of avoiding large public gatherings. You will still graduate at the end of this semester (assuming you meet all requirements) and will receive your diploma in the mail (as is always the case). I am fairly confident that you will be invited to attend another scheduled ceremony.
If you have any questions or concerns, please contact your department head or the Dean's office. Please be patient while everyone finalizes their plans. Your instructors will communicate with you just as soon as possible.
Finally, it is at all possible that your instructors have begun to post lectures on Canvas. This does not mean you are expected to begin viewing the classes prior to Monday, March 23, 2020.
Sincerely,
Sharon L. Oswald
Dean, College of Business
Professor of Management
Mississippi State University