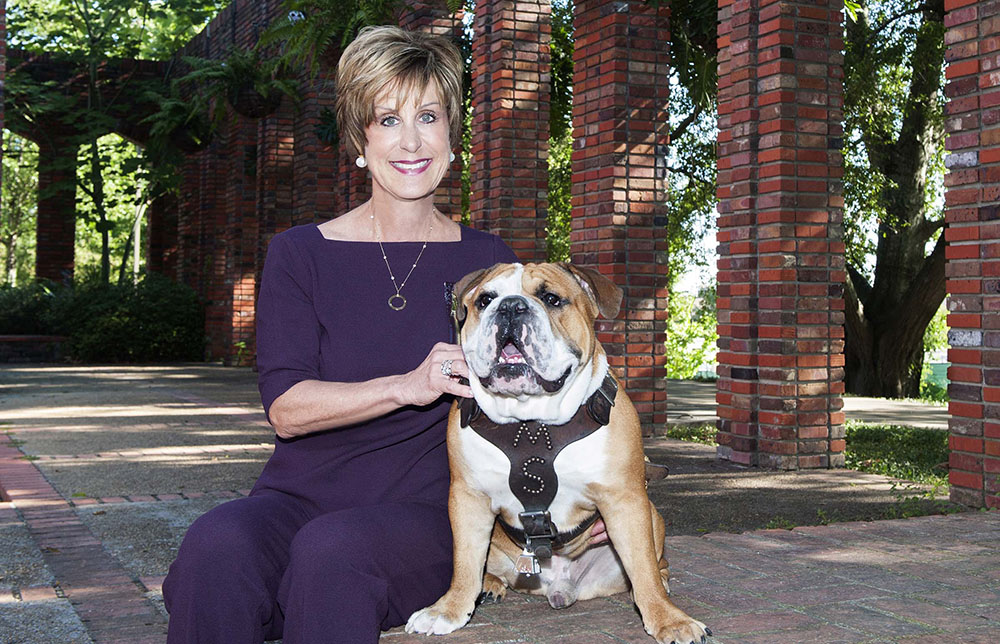 Welcome to the College of Business at Mississippi State University. Our outstanding team of dedicated faculty and staff are committed to providing our students with the finest educational experience and best possible placement opportunities. As the oldest college of business in the State of Mississippi and among the oldest in the SEC, the College of Business boasts more than 34,000 alumni from all 50 states and 142 countries. In fact, over the last three years we have grown by 20 percent, a rate that exceeds any other college on campus. We have nearly 400 MBA students on-campus and via distance education.
Unquestionably, 2020 was a pivotal year. A year where we learned how to teach and meet using various modalities. A year that began much like any other but quickly made us realize how much we truly live in a virtual world. Webex, Facebook Live and Zoom taught us that we can still have academic conferences and church services, raise money, teach classes and even hold concerts while staying apart.
The faculty and staff of the College of Business have been amazing throughout. They have worked twice as hard to accommodate both in-person and online classes. I am proud of every member of the COB family for their positive attitudes and their willingness to go the extra mile for our students. Hybrid, in-person and online classes were taught this past fall. COB students have now experienced classes in Humphrey Coliseum, McCarthy Gym and Bettersworth Auditorium, as well as within Allen and McCool Halls.
Despite the pandemic surrounding us, the College of Business continues to celebrate many successes. A team of finance students led by Dr. Matthew Whitledge won first place in a nationwide banking case competition in 2020, competing against 37 other teams. This marked the first win for a Mississippi team, who received accolades from Governor Tate Reeves.
The Idea Shop, our downtown extension of the Center for Entrepreneurship and Outreach (CEO), received the 2020 Mississippi Main Street Association Entrepreneurial Endeavor Award, which came on the heels of winning the Starkville Main Street Association's Partner of the Year Award. Our funded student businesses continue to thrive, and startups have been streaming into the CEO this year.
Our Boots to Business Revenue Readiness program has been busy preparing hundreds of veterans to open their own businesses. The classes are virtual, and the students are scattered around the world. In the second year of the grant, our team of instructors led by Director Debbie Scott graduated more than 400 students, several of whom have already opened businesses.
Recognized as one of the most influential institutions in entrepreneurship research, Mississippi State is ranked by the Journal of Small Business as No. 6 in the world for the impact of its entrepreneurship research. The Center for Entrepreneurship and Outreach (CEO) helps potential entrepreneurs start new companies or grow existing businesses as they build relationships with peers and successful entrepreneurs and master essential skills to assess markets and operate a business. Within the college, the center annually helps young entrepreneurs raise more than $1 million to launch over 100 new ventures.
The Richard C. Adkerson School of Accountancy continues to reach new heights, as they are ranked 10th in the nation for both undergraduate and graduate accounting programs (with 16 or fewer full-time faculty) in the latest Commerce Clearing House (CCH) Public Accounting Report. Adkerson School of Accounting has recently integrated data analytics and big data throughout its curricula for both undergraduate and graduate programs to ensure that Mississippi State accounting graduates have the technological skill set to make strategic, data-centric decisions in a complex and ever-changing environment. A minor in business analytics is now available to students in any discipline campus-wide, with certain prerequisites. Additionally, a generous donation from the Adkerson Foundation will be used to strengthen Accounting education at MSU. This includes the launching of a Master of Taxation and a Master of Professional Accountancy program with an optional minor in Accounting Data Analytics. A space in McCool is being completely renovated to include state-of-the-art technology and video equipment to assure the most professional program delivery. The online masters programs in accounting are set to begin in Fall 2021.
We encourage you to look further at our website and learn about the many opportunities afforded to you in the College of Business. From traditional programs in accounting, finance, economics, marketing and management, to more specialized programs in business information systems, insurance and international business, MSU's College of Business has an undergraduate program to meet your needs. At the graduate level, we have master's programs in accountancy and taxation, management information systems and economics, as well as MBA and Distance MBA programs. The College of Business and the Richard C. Adkerson School of Accountancy are fully accredited by AACSB International, a global organization devoted to the advancement of business education.
The College of Business at Mississippi State University has excelled in academics, research, and service for over 100 years, and we are only getting better! Thank you for your continued support  and Hail State!
Sincerely,

Sharon L. Oswald, PhD
Dean, College of Business
Mississippi State University