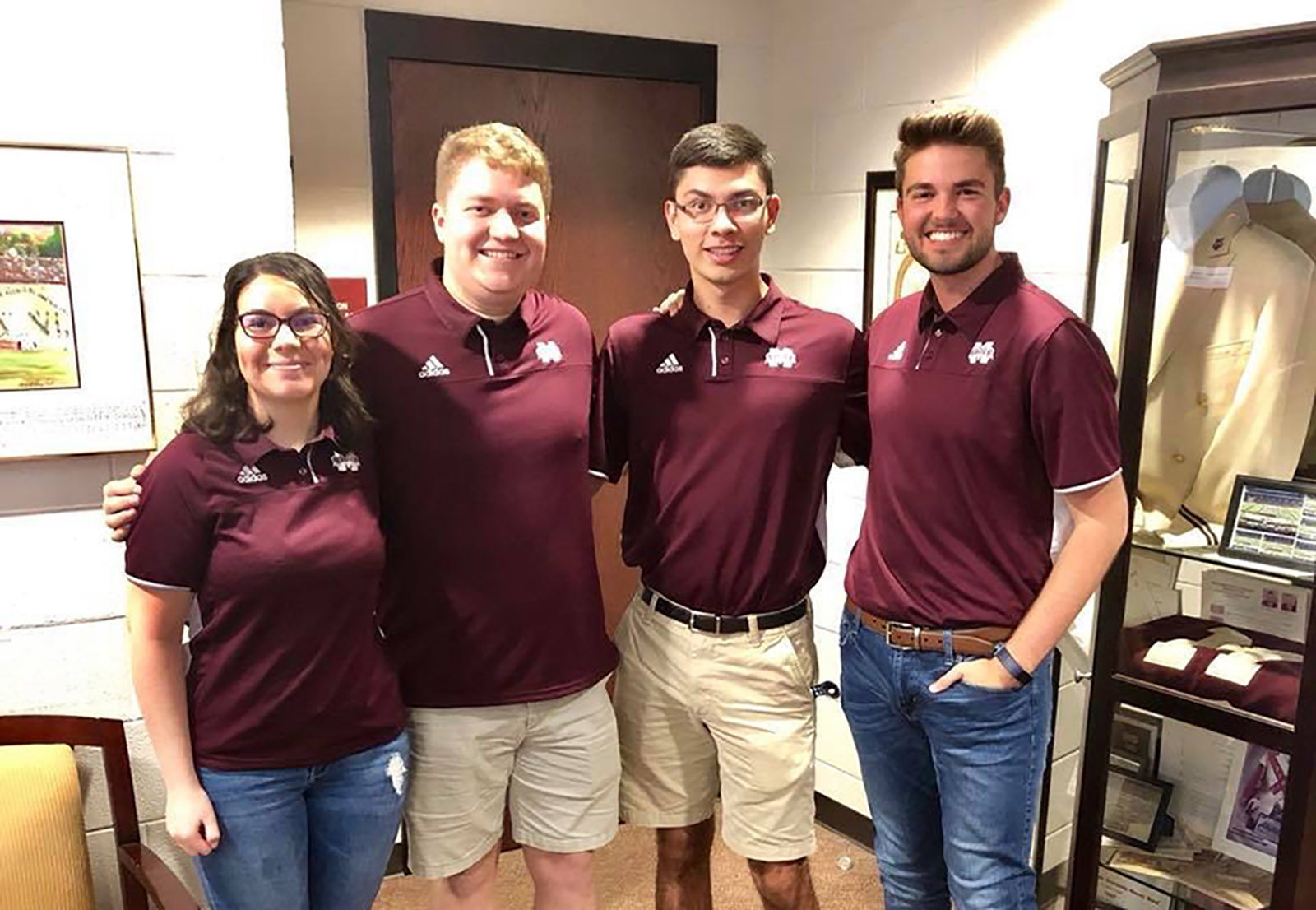 Drum majors for MSU's 2019-20 Famous Maroon Band (l-r) Brooke Balla, Will Frye, Hunter Harris, and MGT/MKT double major Trevor Wasden, who is serving as head drum major. (Submitted photo/courtesy of Craig Aarhus)
Contact: Sasha Steinberg
STARKVILLE, Miss.—Four students representing Mississippi, Alabama and South Carolina will lead Mississippi State's Famous Maroon Band as drum majors during the upcoming academic year.
Chosen from a group of 14 student auditions, they include:
—Brooke O. Balla, a senior biological engineering/biomedical engineering major from Huntsville, Alabama, and a Virgil Grissom High School graduate.
—William C. "Will" Frye, a junior music education major from Ocean Springs and an Ocean Springs High School graduate.
—Hunter M. Harris, a junior aerospace engineering/aeronautics major from Graniteville, South Carolina, and a Midland Valley High School graduate.
—Trevor G. Wasden, a senior management and marketing double-major minoring in entrepreneurship and a Helena High School graduate from Helena, Alabama.
"I am thrilled to have been chosen to lead and work with the one and only Famous Maroon Band. It's such an honor to have the chance to add to the foundation that so many amazing alumni have established," said Wasden, who is serving as head drum major. "I am excited to perform for the absolute best fans in the SEC and create so many new memories with my friends and family in the band, one show at a time."
Balla said she too is honored to serve as a Famous Maroon Band drum major and looks forward to the memorable experiences this upcoming season can provide.
"Band has always been an important and constant family in my life. To serve and lead some of the most important and uplifting people of the Bulldog family is a privilege I'm grateful to have," she said.
Band members nurture and showcase their talents under the baton of Director of Bands Elva Kaye Lance, along with Craig Aarhus and Cliff Taylor, who serve as associate directors of bands and associate professors in the university's nationally accredited Department of Music.
"Our drum majors are talented musicians, fine leaders and outstanding students," said Lance, an MSU alumna and instructor with nearly 40 years experience in music education. "They serve as the face of our band program on our campus and in our community and model the behavior that we expect from our membership. 
"In addition to conducting the band on the field and in the stands, they very ably assist us with music rehearsals and drill instruction. Additionally, the drum majors serve as the liaison between the band staff and the membership. They are involved in decision-making and implementation of policy and are an integral part of our band staff."
Lance said more than three-fourths of the total band membership for this upcoming year graduated in the top 25 percent of their high school class with nearly half graduating in the top 50 percent. Approximately 80 percent held some type of leadership position in high school band. 
In addition to home football games, the Famous Maroon Band lends its musical talents and spirit during Fall Convocation, Cowbell Yell and other special traditions and events.
In recent years, the band has made appearances at the Music City Bowl in Nashville, Tennessee, the Gator Bowl in Jacksonville, Florida, the Orange Bowl in Miami, Florida, the Belk Bowl in Charlotte, North Carolina, and the Outback Bowl in Tampa, Florida.
The MSU Wind Ensemble, the premier performing group of the university's band program, conducted a performance tour of the British Isles in 2008, Germany and Austria in 2011, Italy in 2014, and Austria and the Czech Republic in 2019.
Along with Wind Ensemble and the marching, symphonic and concert bands, students may participate in jazz band and basketball pep band. MSU Band Auxiliary units include color guard and feature twirlers.
Representing a cross-section of academic disciplines, band members receive academic credit each semester and are eligible to receive a scholarship for their participation. The amount of the award is determined by demonstration of their musical ability during auditions, which are held in January.
Tax-deductible donations for MSU Bands are being accepted via the MSU Foundation. To contribute, contact Lynn Durr at 662-325-8918 or ldurr@advservices.msstate.edu.