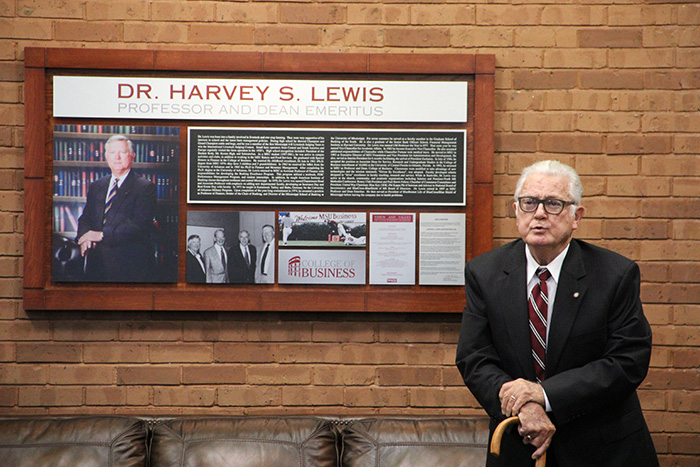 The MSU College of Business is saddened by the loss of Dr. Harvey S. Lewis, who passed away on August 4, 2019. He was 80. He is survived by his wife, Dr. Di Ann Bartee Lewis; son, Jon Brian Lewis (Brenda); daughter Lauri Lewis Hayes (Russ); daughter Heather Lewis; and five grandchildren. 
Lewis was a former Dean and Professor Emeritus of the College of Business. A Finance alumnus, Lewis later earned his PhD from the University of Arkansas. He was the former Department Head of Finance & Economics at MSU before working at the University of Mississippi as Executive Vice Chancellor. He later returned to MSU as Executive Director of the Mississippi State University Foundation, Vice President of Administration & Development and Interim President for six months. After a seven-year stint at the University of Central Florida as Associate Dean of Business, he returned to MSU as Dean of the College of Business until his retirement in 1997.
Throughout his life, Lewis supported many civic and charitable causes with his time and money. He was thoughtful, optimistic and had a great love for helping others. He cherished his relationships with colleagues, friends and students and made an effort to keep in touch and support them. In acknowledgement for his service to Mississippi State University, the second floor mezzanine in the College of Business was named in his honor. 
Dr. Lewis donated his body to the Anatomical Board of the State of Florida for the use of the body for medical research. Family will celebrate his life at a later date. In lieu of flowers, donations may be made to the Harvey and Di Ann Lewis Scholarship, Pass-A-Grille Beach Community Church, 107 16th Ave., St Pete Beach, FL 33706 or The Mississippi United Methodist Foundation, P. O. Box 1986, Jackson, MS 39215-1986. Alternatively, the simple spontaneous act of picking up the dinner check for a military or first responder family to honor their service or giving to the homeless would make Dr. Lewis proud. 
To view the full obituary and express condolences, visit https://www.memorialparkfuneralhome.com/obituaries/Harvey-Lewis-3/#!/Obituary.