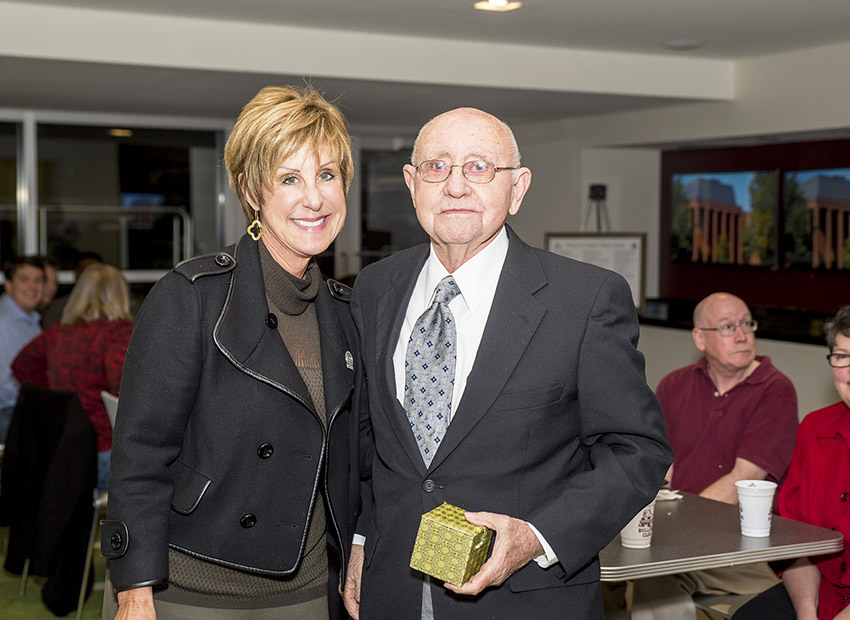 The MSU College of Business is saddened by the loss of former Accounting Professor William Asbury (Bill) Simmons, who passed away on July 12, 2019. He was 95. 
Mr. Simmons attended Dixie Highway school and graduated as valedictorian. He attended Meridian Junior College where he graduated with highest honors. Simmons spent a year in the US Army after WWII, processing servicemen out of the military, later attending Mississippi State University majoring in accounting and income tax for his BS and MS degrees. He passed the CPA exam at his first sitting and practiced accounting part-time while working full-time teaching accounting at Mississippi State University for 39 years. After his retirement from MSU in 1987, he practiced accounting full-time until 2014. He was a past president of the Mississippi CPA Society, and at one time, Simmons was the oldest practicing CPA in Mississippi. 
Simmons taught honors accounting classes and was Honors Accounting Professor of the year. He was also voted outstanding teacher of the year from the College of Business, and was later recognized as one of 19 Notable Faculty members during MSU College of Business' Centennial Anniversary Celebration in 2015. Locally, he served as a director of First Federal Savings and Loan and served on the Advisory board of BancorpSouth. Simmons was active at the First United Methodist Church and served as Treasurer (pro-bono) for 28 years. He was a Rotarian and served as president of Starkville Rotary Club and was named Rotarian of the year. 
Mr. Bill Simmons is survived by his wife Evelyn; his children, Bryan Lott (Myrna) and Lynn Lott Barron (Terry). He had four granddaughters, Ashley Lott, Courtney Lott Allen, Allyn Barron, and Lauren Barron Ramsey (Jake). He had five great grandchildren Simmons, Elliot and Ayden Allen and Rush and Gray Ramsey. He is also survived by his sister, Alta (Tee) Daugherty; nieces, Sarah Radamacher, Tookie Hazlerig (Keith; nephew, Bill Daugherty (Kay); his great nieces, Simmons Skinner (Russell), Caroline Van Eaten (Billy) and Virginia Carter (Liles); and his great nephews, Jonathan and Chip Daugherty and Colin, Cameron, T.C. and Nash Radamacher.
Visitation will be Wednesday, July 17 from 10:00-12:00 at the First United Methodist Church in Starkville, with the service at noon. Interment will be at Memorial Gardens. In lieu of flowers, memorials may be made to the Simmons Accounting Excellence Fund, P.O Box 6149. Mississippi State, MS 39762 or the Starkville First United Methodist Church. 
To view and express condolences, visit https://www.welchfuneralhomes.com.