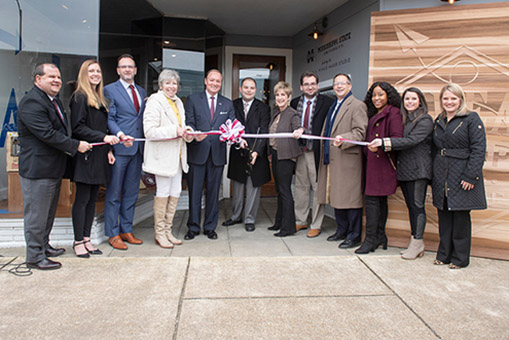 By James Carskadon
(Photo by Beth Wynn)
STARKVILLE, Miss.—Downtown Starkville has a new hub for entrepreneurship and innovation after the Thursday [March 7] grand opening of the Mississippi State Idea Shop.
MSU and city of Starkville officials held a ribbon cutting ceremony to formally open the Idea Shop, a 2,000-square-foot Main Street facility that includes the Turner A. Wingo Maker Studio and the MSU Retail Product Accelerator.
The Idea Shop was made possible through private support, as well as the USDA Rural Business Development Program. It is part of the MSU Center for Entrepreneurship and Outreach and operated by the College of Business and School of Human Sciences in the College of Agriculture and Life Sciences. . MSU President Mark E. Keenum said facilities like the Idea Shop help make downtown Starkville the home of entrepreneurship in Mississippi.
"We are charged with trying to help prepare young people to get a job, but through our entrepreneurship program, we're allowing our students to not just get a job but to create jobs, even jobs that don't exist today," Keenum said.
Starkville Mayor Lynn Spruill said she is excited about the new facility and the partnership it represents between entities like MSU, the city, Oktibbeha County and the Greater Starkville Development Partnership.
"There are so many things going on in our downtown area, and this is just the beginning," Spruill said. "This is one of those things that will blossom into other things. I see nothing but the best ahead for all of us."
The Idea Shop can be used by any members of the Starkville and MSU community. It is open to the public Wednesday through Friday, 1-9 p.m., and from 8 a.m.-5 p.m. on Saturday and Sunday.
MSU College of Business Dean Sharon Oswald said she is excited to partner with the School of Human Sciences to develop a way for entrepreneurs to test their products in a retail environment.
"We wanted to have a space where not only our students, but anybody can come and make a dream come true," Oswald said. "They can develop a product with the equipment we have and then they can actually test it on the marketplace just like some of the products already here."
The Turner A. Wingo Maker Studio provides a comprehensive assortment of design workstations, 3-D printers, electronics workbenches and advanced woodworking tools not commonly available – all to help people build anything imaginable. Membership is available to the general public, and various workshops are regularly hosted for newcomers to the "maker movement."
The MSU Center for Entrepreneurship and Outreach supports student entrepreneurs from every college on campus. Eric Hill, director, said he is proud to be a part of a team that supports students as they launch businesses.
"We talk a lot about breaking down silos and departments working together," Hill said. "This project represents that so well."