Faculty & Staff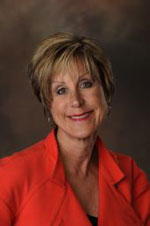 Sharon Lynn Oswald, Ph.D.
Dean
114
Office: 662.325.2580
Education
MBA, University of Alabama at Birmingham
Ph.D., University of Alabama
BIO
Dr. Sharon L. Oswald is Dean of the College of Business at Mississippi State University. Prior to this appointment she was a faculty member in the Raymond J. Harbert College of Business at Auburn University for 24 years, where she held the title of Colonel George Privett Professor of Management, and served for twelve years as the head of the Department of Management. She now holds the title of Professor Emeritus. She earned a BA degree from Auburn University, an MBA From UAB and a Ph.D. from the University of Alabama. Dr. Oswald has published more than 70 articles in several prestigious journals and co-authored one book. Currently, her primary research areas are entrepreneurship and international health care management. Dr. Oswald has been invited on two occasions to participate in an international panel on health care issues at the U.S. Embassy in the Czech Republic. She serves on an international board of directors for the Academy of Health Care Management headquarters in Prague, Czech Republic.
Recent Publications
2015
"Proposing Social Resources as the Fundamental Catalyst Toward Opportunity Creation", with Neil Tocher and Dianne Hall, Strategic Entrepreneurship Journal, 2015, vol. 9, p 119-135.
Recent Presentations
2015
"Social Resources: How Family Firms Can Maintain their Dynamic Capabilities while Fostering Innovation", with Neil Tocher, Southern Management Association, Saint Petersburg, 2015.
2014
"Enhanced Opportunity Exploitation via Leveraging Entrepreneur Social Resources Tward Knowledge Gap Reduction", with Neil Tocher, Southern Management Association, Atlanta, GA, 2014.
"Extending the Importance of Networks in Family Business: The Perils of Bonding Ties", with Lori Muse and Neil Tocher, Theories of Family Enterprise Conference, Edmonton, Ontario, 2014.