Faculty & Staff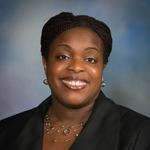 Dr. Vikki Natasha Randle
Associate Professor
Associate Professor of Management
306
Office: 601.484.0254
Department: 601.484.0150
Education
Ph.D., Jackson State University, Management
MBA, Meredith College, Management
BBA, North Carolina Central University, Accounting
Recent Publications
2015
Recent Presentations
2015
"Professional intimacy in relationships between managers and subordinates: Moving toward scale development.", with Kristena P Gaylor, Christopher J Mathis, and Jeffrey L Wilkins, 2015 International Conference of the Society for Advancement of Management, Las Vegas, Nevada, 2015.
2013
"Disentangling the Misconception of Sex vs. Gender in Work-to-Family Conflict Research", with Christopher Mathis, Dewaynna Horn, and Robert DelCampo, 2013 Southern Management Annual Meeting, New Orleans, LA, 2013.
"The Impact of Perceived Organizational, Supervisory, ", with Doug McWilliams, Annual Meeting of SAM-Society for the Advancement of Management, Arlington, VA, 2013.
Certifications
SPHR, Society of Human Resource Management (HRCI).